Berat is a unique experience of your lifetime. Explore the city of thousand windows, UNESCO heritage.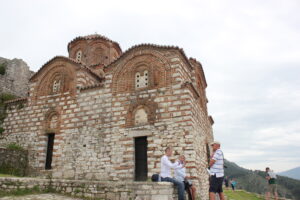 Highlights
Explore with a local guide the UNESCO heritage city
Experience the vivid traces of ottoman period
Visit the inhabited castle
Explore the "Onufri" National Iconographic Museum, house of rare Albanian icons
Visit the main object cults of three biggest religions peacefully coexisting
Entrance fees on historical sites included.
Enjoy traditional lunch in the castle
What You can Expect
Travel to Berat on the morning 8:30hrs. Once you get to the city you will learn that it was invaded three times by Ottomans, Romans and Bulgarians then became a big principality under the rule of Albanian noble family of Muzaka in the 14th century. Your will walk on well preserved cobblestone streets.
Explore the Onufri Museum inside of the Cathedral of the "Saint Mary Assumption" (18th century) and admire the icons of the mysterious work of Onufri painter.
Visit the castle one the most marvelous sight of the city. It is one of the biggest inhabited Castles and has many Byzantine churches, as well as some mosques built under the Ottoman era which began in 1417. You will visit as well the King Mosque and Helveti Teke.
Enjoy a traditional lunch inside the castle.
Next stop is old quarters of Mangalem and Gorica that connect with each other by the Gorica Bridge over the Osumi River. Both quarters take pride of their architecture and rare shapes of the houses.
Return to Tirana.
What's included:
Hotel pickup and dropoff
Traditional lunch
Entrance fee in all historic sites
Guide in English
Transportation
Exclusion 
Dinner
Drinks
Itinerary
08:30-10:30 Travel to Berat.
10:45-11:30 Explore the Church of "Saint Mary Assumption" and the Onufri Museum
12:00-14:00 Lunch time. Enjoy traditional delicious food. All bio.
14:00-16:30 Visit the castle of Berat, King Mosque and Helveti Teke
16:40-18:00 Visit the old quarters of Gorica and Mangalem, other attractions on the way.
18:00-20:00 Return to Tirana
What's included:
Hotel pickup and dropoff
Traditional lunch
Entrance fee in all historic
sites
Guide in English
Transportation
Exclusion
Dinner